Welcome, we are glad you are here.

Our pledge is to help patients achieve wellness through a combination of compassionate patient care and superior medical, minimally invasive, and surgical treatment. We pay careful attention to environmental triggers, physical cues, and past medical histories in order to fully grasp each unique patient situation. We promise to leave no stone left unturned in diagnosing and treating chronic diseases of the ear, nose, and throat.

Why Choose Dr. Dennis and Atlanta Center for ENT?
Dr. Dennis and His Practice are Patient Focused.
Dr. Dennis is well-known for taking time with each patient to gather the necessary medical history and environmental information required to understand and properly diagnose their symptoms. Office hours are not overscheduled, and patient visits are never rushed.
Dr. Dennis is an INNOVATOR.
He developed novel surgical instrumentation and revolutionary surgical procedures, such as the Bipolar "Dennis" Probe, the Bi-Polar suction cautery for turbinate surgery, and the Dennis and Kashima Procedure that revolutionized the management of bilateral vocal cord paralysis.
He was the first surgeon in the world to successfully perform Endoscopic CO2 Laser Cordotomy of bilateral vocal cord paralysis and the first in Georgia to perform Endoscopic CO2 Laser hemilaryngectomy for the treatment of Laryngeal Cancer. He was the first in Atlanta to perform CO2 Laser vocal cord surgery.
The Atlanta Center for ENT employs the latest TECHNOLOGY.
The outpatient, on-site Surgery Center offers Balloon Sinuplasty, Image-Guided Endoscopic Surgery, and CO2 Laser Surgery.
Dr. Dennis offers medical care with an INTEGRATIVE APPROACH.
He recognizes that chronic infections and illnesses are symptoms of other underlying causes-inflammation, hormonal dysregulation, and environmental toxins and triggers. He has published groundbreaking research regarding fungal exposure and growth hormone deficiency.
Dr. Dennis has created evidence-based and results-drive TREATMENT PRODUCTS and PROTOCOLS.
He has formulated and developed proven treatment products and protocols for physicians and patients to address fungal load in the nose and body and indoor air quality in their homes.
"TAKE IT FROM SOMEONE WHO HAS BEEN THERE"
Toxicologist, Jack Thrasher, PhD referred me to Dr. Dennis. I thank God for the trail of good, trustworthy professionals that brought me to him. His knowledge of ENVIRONMENTAL ILLNESS and how your home environment can be the culprit for poor and life-threatening health conditions is above exceptional! Dr. Dennis has a very effective protocol in place for healing and maintaining that healing. His Staff is wonderful, and I truly know they care about me as a patient!
Connie Bujnowski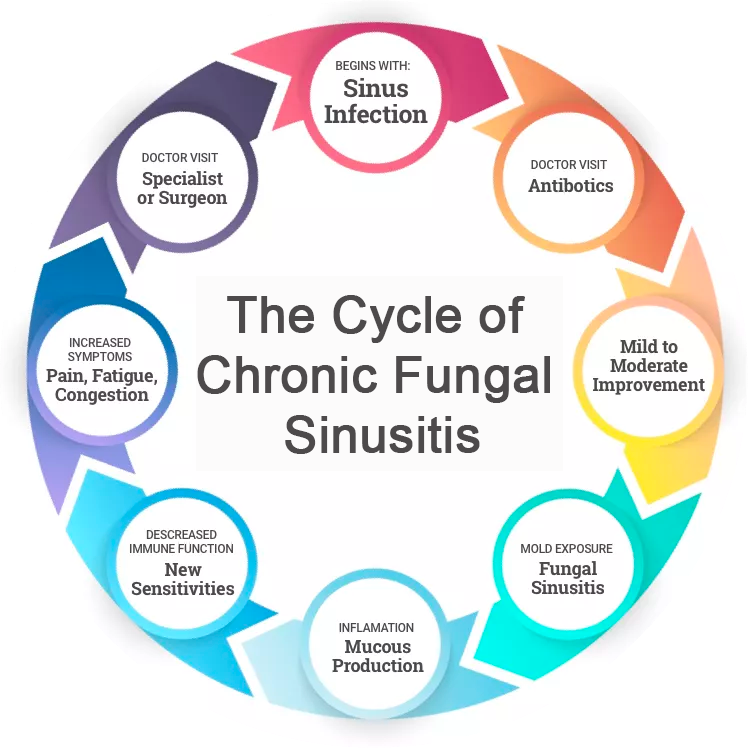 Ending The Cycle of Chronic Fungal Sinusitis
Chronic sinusitis is a common illness that, despite treatment attempts, lasts for at least 12 weeks. Uncertainty about whether a case of sinusitis is bacterial or viral often leads to doctors overprescribing antibiotics. The cycle begins when repeated antibiotic use creates an environment conducive for fungal growth in the sinus.  This leads to fungal infection and increased mucous production, which, in turn, provides further nourishment for fungal growth and reproduction. Then, sensitivities and symptoms increase and immune function is impaired. The cycle is completed when a patient finally seeks specialist intervention and often undergoes sinus surgery.
At the Atlanta Center for ENT, Dr. Dennis stops the cycle of inflammation and sinus infections by addressing the fungal source in both the patient's nose and environment. Sometimes, surgery is still required for a patient to totally get well, but because the cause is addressed and eliminated, the cycle ends and patients can make complete and successful recoveries.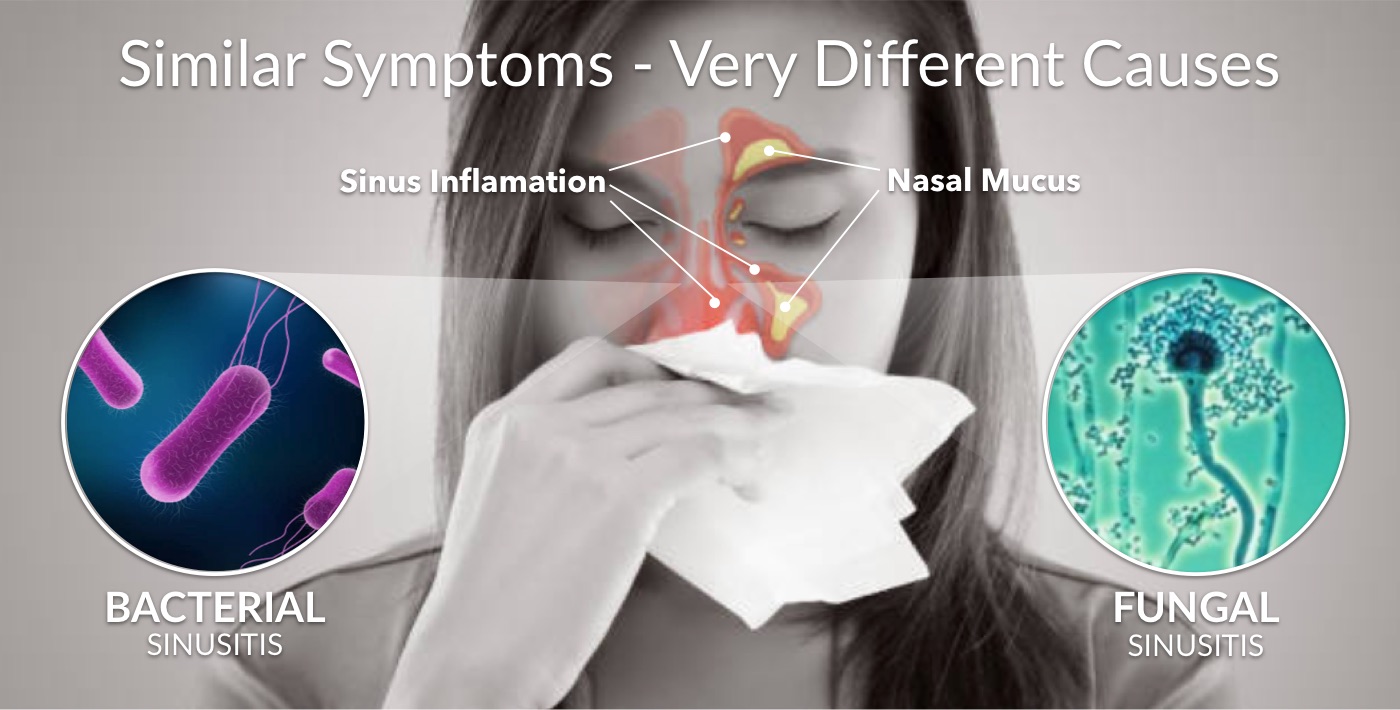 Minimally Invasive Approaches
Dr. Dennis employs leading-edge, minimally-invasive ENT surgical procedures. This includes image-guided endoscopic balloon sinuplasty and other surgeries that allow entrance to the nose and sinus without external incisions.
The Dennis Surgery Center Offers Onsite Outpatient Procedures

"PLAYED A SIGNIFICANT ROLE IN SAVING MY LIFE"
I can say without hesitation that Dr. Dennis played a significant role in saving my life. He accurately addressed the diagnostics of my situation, which allowed for the appropriate surgery and treatment.  It has been 5 years since I began working with Dr. Dennis, and my health has been steadily on the mend. To look at me now, no one would never know how sick I was.
Key to his work is full compliance, even when his direction may seem counterintuitive. Included in his protocols is the remediation of the environment. This was essential to my healing, along with the continued use of nebulizers, and EC3 for cleaning, fogging, and laundry.  Without Dr. Dennis overseeing my health, I believe that I would not have ever survived.  I am grateful for Dr. Dennis and to his dedication in restoring my health.
– Sheri Schulze

Frequently asked questions
Are there patients Dr. Dennis will not see?
Donald Dennis
2019-02-15T18:04:04+00:00
THIS IS FOR PATIENTS who are severely ill with multiple systemic symptoms and/or neurological symptoms, or who have an energy score of 5 or less with 10 being high energy and 0 cannot get out of bed.
Patients who come to Dr. Dennis as a result of taking the online Free Mold and Environmental Evaluation OR who see Dr. Dennis for fungal sinusitis, must be willing to initiate the temporary environmental treatment protocol which is a HEPA air filter, fog or spray with EC3, candle in rooms they inhabit, wash all clothes in EC3 Laundry Additive while they are trying to find a safe place to stay while finding a mold-free residence or while the mold issues in their home are being fixed. Those patients must also understand that they will not be able to take any belongings with them because the mold will follow them to the "safe" place and contaminate it. This will impede any treatment progress.
A patient must be prepared to adhere to staying in a mold-free space as the most important step in treatment because if they continue to live in a moldy environment, there is very little chance that they will get better with any medicine or procedure. It is best that patients who are not able to deal with the environmental piece do not waste their resources (time and money) to receive treatment, because they will not have the chance or opportunity to actually get better.
Does Dr. Dennis treat any illnesses other than those of the ear, nose, and throat?
Donald Dennis
2019-02-16T18:32:59+00:00
Dr. Dennis is an ENT and only sees patients requiring his specialty.  However, Dr. Dennis takes an integrative approach to medicine. Diseases such as chronic sinusitis can have an inflammatory or immune system trigger. Dr. Dennis will provide pharmaceuticals, medical and environmental protocols, supplement prescriptions, and nutritional advice necessary to treat all of the complications of chronic sinusitis. Some of these complications include inflammation, fatigue, pain, headaches, cognitive dysfunction (brain fog, memory issues, trouble thinking), and digestive issues.
Does Dr. Dennis provide nutritional and dietary supplements?
Donald Dennis
2019-02-16T18:33:33+00:00
No, Dr. Dennis' practice does not dispense or sell supplements; however, all necessary supplements, supplies, and medications he prescribed are available at Pavilion Pharmacy, which is located in the same building complex. Other medications are available for purchase online from various sources.
Are there medicines that can be purchased from other pharmacies?
Donald Dennis
2019-02-15T15:22:26+00:00
There are some prescription medicines that Dr. Dennis prescribes that can be purchased from any pharmacy; however, Pavilion Pharmacy is a compounding pharmacy and will prepare any custom formulation and specialty pharmaceuticals that may not be available at every pharmacy.
Does Dr. Dennis prescribe any other medications or protocols that may be perceived as unusual?
Donald Dennis
2019-02-16T18:30:54+00:00
For patients who have a positive environmental history and/or who are chronically ill, Dr. Dennis tests the patient's clothing for mold. A positive result is a strong indicator that there is mold in the patient's environment. Dr. Dennis will often ask the patients to test their home environment for mold as well.
If mold is clearly detected on a patient, the practice may ask to provide a safe/natural treatment for their clothing to remove mold so that the patient can start feeling better sooner. This is done at no additional charge. It is done for the safety and wellbeing of all patients and staff.
What can I expect when scheduling an appointment?
Donald Dennis
2019-02-15T15:27:51+00:00
Patients who see Dr. Dennis will be asked to answer a detailed questionnaire about their sinus and medical history, their home environment, and current and past symptoms.